"2014 best thesis and research paper award for the advancement of corrections and probation systems"
Starting from 2013, QUALIFY JUST IT Solutions and Consulting (IPS_Innovative Prison Systems) jointly with the European Association for Social Innovation recognize university top recent M.A., M.Phil., M.B.A. and Ph.D. graduates and academic researchers by presenting 'best thesis' and 'research paper' awards.
The recipients receive an award equivalent to 1.000,00€ in each category (Master's, Ph.D and "research paper") and will see their work disseminated in the corrections and probation community.
The award aims at corrections and probation systems advancement in each of four broad disciplinary areas:
Arts & Humanities (including law, history and philosophy)
Biological & Medical Sciences
Physical Sciences & Engineering
Social & Behavioral Sciences & Education
and should consider projects targeting, as example:
minors and juveniles education and reinsertion
risk assessment of offenders and ex-offenders
reinsertion of inmates
community sentences
relation between inmates, family and community
impact of prison in offenders family and children
prison work/prison industries
relation with employers
mental illness in prisons
suicide prevention
ICT for prisons and probation
e-health in prisons
learning technologies for inmates and staff training
use of games and new learning methods in prison context
public-private partnerships in justice
non-cooperative biometric recognition
…other relevant themes in the corrections and probation fields.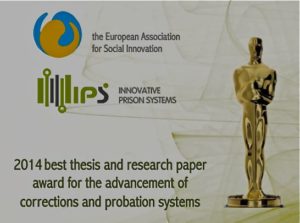 Who can apply? 
a) Current and former students (including prison and probation staff) who will have been awarded the M.A., M.Ph., M.B.A. or Ph.D., or who will have successfully defended and officially submitted their dissertations, between July 1, 2012 and July 15, 2014, will be eligible to be nominated.
b) Academic researchers affiliated with a university or university research centres;
c) Practitioners working in prison and probation services or NGO's holding M.A., M.Ph., M.B.A. or Ph.D. degree.
If you would like to know more about this award or receive the award regulation for 2014 please send us a request by e-mail toips@prisonsystems.eu