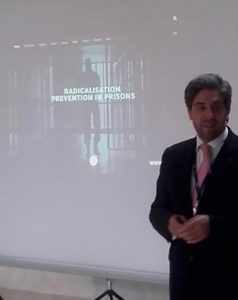 The event counted with 30 high level officials (security, education, intelligence) from 15 countries in the region.
On behalf of IPS, it's CEO, Pedro das Neves, participated as invited speaker at the workshop "Pathways to Radicalisation and Recruitment: Intervention Strategies in the Balkans, Central and South Eastern Europe" organized by the Romanian Centre for Prison Studies of the University of Vest Timisoara and the National Administration of Prisons of Romania from 24 to 28 of April 2016 in Timisoara.
With the title "Reinsertion, radicalisation prevention and intelligence led corrections – Kafka, Orwell, Bentham and Foucault revisited?" Mr. das Neves addressed the audience inviting the participants to reflect on the importance of the use of existing prison technologies to promote a balanced approach between rehabilitation/reinsertion, radicalization prevention and intelligence led corrections (digital footprints).
 At the event Mr. das Neves also presented the work that is being done in the framework of the R2Pris project and invited the participating countries to join as associated partners.
For further information please contact ips@prisonsystems.eu