In the framework of MyComPass project, delegations from Romania, Lithuania, Cyprus, hosted by IPS/Qualify Just met in the first week of April in Lisbon with representatives from DGRSP and visited the "O Século Foundation".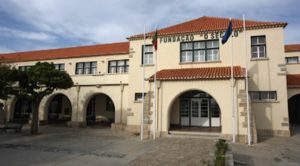 During the visit, transnational partners took contact with both the portuguese framework for protection of minors (visiting and understanding the functioning of "O Século" foster care homes) and the justice for minors custody law (understanding the functioning of ministry of justice Educational Centers under DGRSP responsibility).
 MyComPass (My Community Passport – Key Competencies for Minor Offender Reintegration) is an European partnership aiming to support juvenile offenders in training in the acquisition and usage of key competencies in VET to facilitate personal development, employability and participation in further education.
O Século Foundation (
www.oseculo.pt
) is an NGO responsible for 16 types of social intervention, including foster care homes run under the portuguese framework for protection of minors.
DGRSP (
www.dgsp.mj.pt
) is the Portuguese Ministry of Justice General Directorate for Prison and Probation Services, responsible also for sentenced minors and juvenile custody.