Sindicatul National al Lucratorilor de Penitenciare (www.snlp.ro) has concluded a series of focus groups and surveys to design its endomarketing strategy plan.
This process is integrated in the Workers engagement action in the framework of the Itinerariul Dialog project 104565/2012, funded by Norway through the Norwegian Mechanism 2009-2014 focused on social dialogue development in the Romanian prison service.
Endomarketing is a concept that seeks to adapt marketing strategies and elements to internal use of organizations. The purpose is to better engage "collaborators" in "promoting" the organization to the "market". Under endomarketing concept, organization promotion and positioning becomes as important to "collaborator" as to the "client or users".
In SNLP case the purpose is to increase members' engagement and participation on union actions. So, the aim is that participation becomes so important to members (active or inactive) as to representatives (those at governing bodies). 6th May focus group was the second event gathering SNLP members from one branch, the first event being held at Jilava branch. Participants were active members of SNLP central services (ANP) branch.
Participants were asked to think on actions that could increase employee participation; about how SNLP is perceived by its members; about the advantages of being SNLP member; assessing communication processes; and how they foresee SNLP between 2015 and 2018. The endomarketing strategy design process will continue until the end of May, from which a major output is expected to emerge providing key insights and action plan to better engage SNLP members fulfilling organization mission. As labour market, society paradigm and economic crisis poses huge challenges to unionization level and unions' bargaining power a new approach, and eventual concept, is required to emerge.
The expectation is that SNLP can tackle effectively emerging defiances.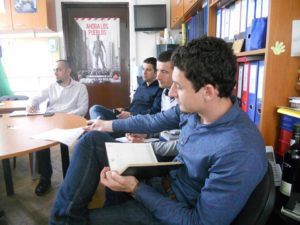 For further information, please do not hesitate to contact us by e-mail ips@prisonsystems.eu